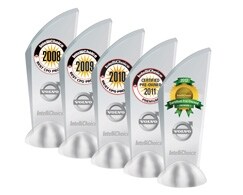 Volvo Certified Program Rated Number One

With an enhanced warranty period and a demanding 130-Point Volvo Certified Inspection, a Certified Pre-Owned Volvo can make as much sense as a new Volvo.
Now Volvo is the luxury category winner of IntelliChoice.com's Best Certified Pre-Owned (CPO) Award for 2008, 2009, 2010, 2011 and 2012, an incredible 5 years in a row. Delivering on brand value, warranty and inspection compliance, Volvo rose to the top once again with the industry's only report card for CPO vehicles.

---
Top Ten Reasons to Drive a Volvo CPO Vehicle

1. 7-year/100,000-mile exclusionary CPO warranty*
The Volvo factory-backed CPO warranty fully covers every part not specifically excluded: including the replacement or repair of thousands of components, systems and operations. You can also purchase additional coverage equal to 7-years/125,000 miles, 8-years/100,000 miles, or 8-years/125,000 miles.

2. NO deductible for CPO warranty visits
That's right " you won't pay a dime for service visits covered by the CPO warranty.
3. Volvo Certified Comprehensive Inspection
Vehicles are examined and road tested at more than 130 different points and components are repaired or replaced as needed. We check the exterior and powertrain, and even road test each vehicle.
4. Volvo On Call Roadside Assistance?
For even greater peace of mind, Volvo On Call offers these benefits for the length of the CPO warranty: free emergency roadside and towing service 24/7/365, trip routing map services, $5,000 car theft protection award, discounted car rental rates, and trip interruption coverage for a breakdown or traffic accident related to the CPO warranty that occurs more than 150 miles from home.
5. CARFAX Buyback Guarantee
Every Volvo CPO vehicle is covered by the CARFAX Buyback Guarantee. We run a CARFAX Vehicle History Report to ensure that the vehicle has a clean title and that its odometer reading is accurate. If a severe problem title** reported by a DMV is later discovered, CARFAX will buy back the vehicle from you.
6. Volvo Genuine Service
To keep your Volvo performing smoothly long after other cars would have given up, we offer: factory-trained technicians (including mobile technicians at participating retailers), expert inspection/evaluation, fixing the car right the first time, Volvo diagnostic equipment and special tools, and genuine Volvo parts carrying a 12-month warranty.
7. Strict eligibility rules
It takes a special kind of Volvo to even be eligible for our CPO program: it must be the current model year or no more than 6 years old (e.g., in 2010, eligible model years are 2005-2011), its mileage must be 80,000 miles or fewer, it must have a "clean" CARFAX Vehicle History Report, and it must be reconditioned to meet all Volvo Certified Comprehensive Inspection standards.
8. Higher standards
Every CPO vehicle is reconditioned to meet Volvo's safety, performance and appearance standards according to our comprehensive 130+ point inspection. And, each vehicle is covered by a solid CPO warranty.
9. Award-winning value
The Volvo Certified Pre-Owned Program has been ranked among the top three in the luxury segment by an independent automotive information company every year since 2001.