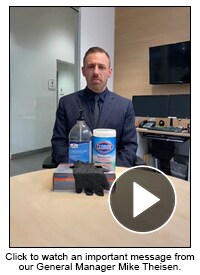 To our friends, loyal customers, and valued vendors: 
All of us here at Kline Volvo want to extend our deepest compassion for those affected by the coronavirus flu.  We have been following the issue closely and have taken precautionary measures at our dealerships to help ensure that our visitors and employees are being protected from the spread of germs. 
To this point, we have initiated numerous protocols beyond the normal steps we take during the flu season.  
Here at Kline Volvo we have put in place: 
Access to hand-sanitizing stations throughout the dealership to allow visitors and personnel to clean their hands more frequently (hand sanitizer can be found in the customer lounge, service write-up area, reception/cashier counter, and elsewhere - just ask an employee if you don't see a dispenser near you).  We will continue to provide sanitizer for as long as we can source the product.

Increased the cleaning of high-volume, high-touch areas, including paper towel dispensers, vanity tops, counters and door handles.

Our staff is required to engage in good hygiene by properly cleaning their hands on a regular basis. 

We stay engaged with numerous agencies and our local trade Association, plus the health departments at the city, state and federal levels to make sure we are informed of latest updates and protocols.
We distributed critical information among key staff members and business partners to help prevent communicable illnesses throughout the venue.

We are making sure employees are aware of and follow best practices recommended by the CDC and are educated on the facts regarding COVID-19. 

We are taking extra precautions and sanitizing vehicles prior to test drives, as well as rental/loaner, and customer vehicles being serviced.  We will be sanitizing frequently touched vehicle components (steering wheels, controls, door handles, etc) as part of our process. 
The health and safety of our customers, our employees and our vendors have always been our top priority here at Kline Volvo.  Now, more than ever, we are committed to maintaining a safe environment for everyone who walks through our doors.
We appreciate you patronizing our dealership and value the trust you have placed in us.
Mike Theisen
General Manager
Kline Volvo